This fresh take built on the framework of Jane Eyre misses some of the charm of the original, but takes it in a riveting and spooky new direction that had me binge-reading. Within These Wicked Walls is true dark fantasy, with a surprisingly sweet romance at its core.
As a debtera, Andromeda cleanses people of manifestations of the Evil Eye. After being kicked out of her abusive mentor's home beneath a church, Andi goes from the streets to a grand manor she labels a castle. Yet this home (belonging to a far younger Mr. Rochester, with lighter personal baggage) is in a desert, and no one wants to go near it—including other debtera.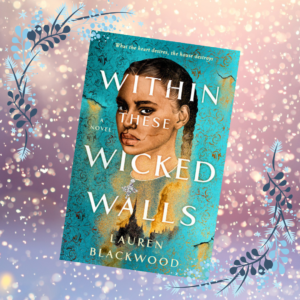 Andi becomes the 11th debtera to try to cleanse the frigid and ominous Thorne Manor, where rooms casually trickle blood or fill up with snow (there's a whole lot of creepy in that house, but I won't spoil it too much). She also gets to know Magnus Rochester, the 20-year-old who inherited his father's curse alongside his chocolate empire.
Mr. Magnus Rochester is boyish and silly, and insists on informality. Andi is the one challenging him, rather than the other way around. He lacks much of the dashing and intellectual flirting of the original Mr. Rochester, but is a warmer figure, suitable for a girl who's known little kindness to fall in love with.
The attachment comes on a little quickly for me, being far closer to insta-love than slow-burn. I wondered how fierce and sensible Andi could fall in love so quickly, but wholly believed in her affection for Saba. Mentor Jember is also portrayed unevenly, and Andi's drive to eke out some admission of caring from him didn't track for me. When she tries to chalk up his behavior to debilitating nerve pain, it felt unkind to real-world nerve pain sufferers and not believable for his character.
Still, the atmosphere of Thorne Manor, the sweet, young romance and genuine plot twists kept me glued to this book. While I wished for a stronger ending and thought some loose ends were too quickly tied up (or left alone, like the significance of the nasty spider closet), I adored most of this book and would read a title from its author again.