If you're looking for romantic fantasy where plot comes first, action is second and romance claws it's way into third, with princesses, fae vs. humans, trolls (ahem, trolldefolk) and arranged marriage (or if you thought yes to any one of these things), might I enthusiastically suggest this Bride of the Shadow King review? Read on!
Note: I received a free copy in exchange for an honest review.
Farraine is a disgraced princess with a painful empath gods-gift; Vor is a hunky half-trollde, half-human king of an underground realm. These two hit it off right away, but unfortunately for them, it's Faraine's younger sister Ilsevel who's destined to marry Vor in this twisty and exciting romantic fantasy.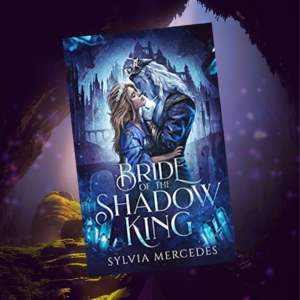 If you're hoping for a tidy romance, this book will leave you in agony! Farraine and Vor are truly star-crossed, and constant unexpected events (plus the great action sequences I now expect from author Sylvia Mercedes) keep the course of love rocky as a trollde hide. This is truly an eventful book, full of swoony touches and missed connections.
This excellent book's plot is riveting, and the traditional fantasy feel of Vor's perspective was a welcome surprise. I enjoyed both POVs equally and grew fond of supporting characters like Hael and a certain sister of Farraine. Beyond telling you I can't wait for book two, I honestly don't think I should tell you more! That's how chuck full of plot twists it is.