Note: I received an ARC and this is an honest, voluntary review.
What a beautifully written story, and the darkest in the series so far. Full of grim depictions of war and its effects on those fighting it, Married by War has its Goose Girl moments in the plot and no shortage of heartbreaking scenes. But dog lovers should be careful! My heart still aches when I think back on certain scenes.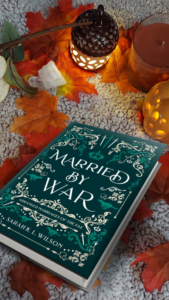 There were so many wonderfully written lines in the book that I highlighted, most of them full of the heartache of its characters. The romance is born of genuine shared kindness and humanity amidst a lot of darkness, and I very much rooted for the two narrators.
I think it's not a spoiler at this point to say these are all HEAs in the series, and this one is incredibly hard-won. My heart still aches a little after this one, but it was also so gorgeous, like finding a bit of goodness after wading through dark times.