Vo (The Chosen and the Beautiful) is another repeat author for me. When the Tiger Came Down the Mountain follows The Empress of Salt and Fortune, though one could easily be read before the other.
When the Tiger Came Down the Mountain is the story of stories. Protagonist Chih, a cleric from the Singing Hills Abbey, is on their way, via a young mammoth and her handler, to collect more stories and make records of events when they're met by three hungry (and angry) tiger sisters. Agreeing to tell a story of the tigers' choosing in exchange for their lives, Chih is forced to tell a loaded story—one the tigers warn her not to get wrong too often.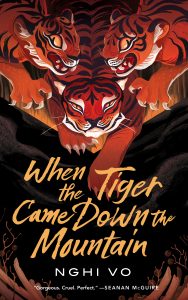 The tiger's version, however, disagrees on many key details and even in "the best part," as one tiger sister puts it. As Chih tries to navigate the differences between the human and tiger version of a famous story of Ahn (filled with LGBTQ characters, love and ghosts), this swift and lyrical novella captivated me as much or more than The Empress of Salt and Fortune.
Vo's lyrical writing and the series' captivating take on legends from across Asia continue to be like nothing else I've ever read. The plot, hinging on two versions of one story, made me think about the spaces between the two and the life-changing effects of storytelling. The wistful ending also made me long for a book three all the more, so I could see what stories Chih learns next.