If you're familiar with me through my blog or social accounts, you know I'm an Intisar Khanani super fan. As such, I could not be more excited for her next book release in the Dauntless Path series, A Darkness at the Door! I'm fortunate to be a part of her latest cover reveal by the excellent Jenny Zemanek (who has done all of her indie covers, too) at Seedlings Design Studio.
For those not familiar with the series, it begins with a goose girl retelling in Thorn (read my review here), then continues Princess Alyrra's story in a really interesting way. With new protagonist Rae, the series delves into the social problems of Menaiya and its missing children in The Theft of Sunlight.
The Dauntless series…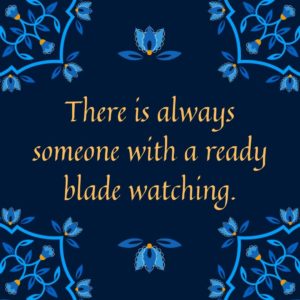 has disability rep through Rae
reps middle eastern culture and peoples through its kingdom and Menaiyan characters
deals with abusive families through Alyrra
is full of sweet romance (and a somewhat star-crossed one with Rae and thief Bren)
draws from real life to bring attention to human trafficking in The Theft of Sunlight (and undoubtedly in A Darkness at the Door)
has tons of action and cool, interesting magic…
…yet none of the MCs have it! So well executed
all have 4 🌟 or higher ratings from me
At the moment, Intisar Khanani is also running a Kickstarter for the audiobook and special edition hard cover of A Darkness at the Door, and the gift swag is gorgeous! You can find the campaign here.
So, without further ado…
Publisher's description:
The truth I carry can't be allowed to die . . .
 
Only Rae knows how deep the corruption at the heart of her kingdom runs. Imprisoned on a slave ship, she effects a harrowing escape – but her freedom comes with the weight of dangerous debts and terrifying magic. Now, to free her land from the growing darkness, Rae will need every ally she can find, including Bren, the thief who may have stolen her heart. But Bren is hiding his own bloody secrets, and the curses that encircle Rae have sunk their claws into her mind.

While the truth could save Rae's kingdom, it might destroy her first.