This one is for fantasy, romance and time travel fans. This Only a Monster review takes a look at the fast-paced YA fantasy by Vanessa Len, including the unusual romance and the one thing that might turn readers off.
This book was such an unexpected surprise for me! Full of heartache, adventure and moral dilemmas, Only a Monster takes its MC, Joan, from life as a history-loving teenager (admittedly, one who often reads as younger than 16) on a journey through recent history.
When one tragic night leaves Joan on the run with the strikingly dapper Aaron, it sets the stage for star-crossed but understated drama. Aaron is an Oliver and Joan is a Hunt; the two London Monster families don't mix. Life was far simpler for Romeo and Juliet.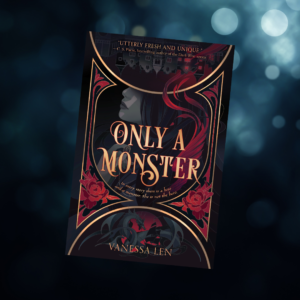 It was refreshing to see an earnest heroine with two love interests without a love triangle forming. In fact, all the tropes in Only a Monster are subverted. Joan has been told she's the savior of all monsters, yet she's clueless. The hero is the bad guy, there are gray areas galore, and destined love is all but impossible.
Fans of Claire North's The First Fifteen Lives of Harry August and David Mitchell's The Bone Clocks will enjoy this well-paced, heartfelt book, as will romantic fantasy fans. I'm excited to see what the rest of the series will bring.