Aiyca, the witch-led world of dueling narrators Jazmyne and Iraya, is absolutely fascinating.
Iraya ("Ira") is the rightful heir to a toppled throne, sent to prison like so many of her Obeah sistren. Jazmyne is the heir to the Alumbrar usurper (or liberator, depending on how you look at it). With the Obeah imprisoned, subjugated and used for their talents, a rebellion is imminent. And Iraya is just the witch the Obeah rebels been waiting for.
"Trouble doesn't give signs like rain, so we must always be ready for it." – Witches Steeped in Gold
Jazmyne, meanwhile, wants to see her mother's rule end, too. With no magic of her own (she can't inherit the throne or her family's magic until her mother's death), she is stuck with politicking and plotting behind closed doors. Against gold conduit-fed magic and ruthless rule, her only weapons are loyalty and plans. She comes off disappointingly weak at times, but is also easy to root for.
Readers are dropped into the magic system and receive piecemeal information along the way, so it can be hard to get into at first. In certain sentences, plentiful clauses took me out of narratives I truly wanted to sink deeper into. I did eventually, and I thought the Jamaican-inspired world, and the system of gold conduits/inheritance were wonderful. The Obeah's abilities to summon the help of the dead also ticked a few boxes for me in my Sabriel-loving heart.
Fantasy fans searching for female-led narratives and LGBTQ characters should also take a look at this one. In Aiyca, there's not a dominant man in sight, and same-sex relationships are written of matter-of-factly and without any hints of social stigma (though note that these are relegated to peripheral characters and not the narrators themselves).
I found myself rooting for both heroines of Witches Steeped in Gold, knowing all the while (and eagerly anticipating that) they would one day face off. The snafu in everyone's plans that is pirate society was also a great addition—and makes for some of my favorite chapters. As much as I appreciated this book, I do wish it had gotten to all the good stuff faster!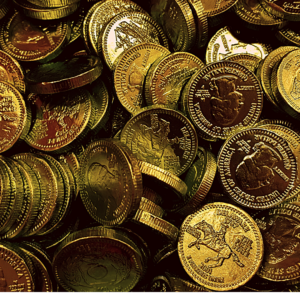 Don't overlook the fact that a sequel is coming, either. I sadly didn't realize this and expected a more satisfying wrap-up. I also found the major decision of a certain character to be more unlikely than unexpected, though it sets the stage for future conflict. I'm undecided, at this moment, whether I'll continue with the series (which could be a nod to my impatience with longer books more than anything), but it may be too hard to stay away from Jazmyne and Iraya's world.
It's just that good.