Note: I received an ARC and this is an honest, voluntary review.
Enemies to lovers romance meets a (mostly) cozy mystery in this East Asian-inspired fantasy novel by Anastasis Blythe (Maiden of Candlelight and Lotuses). Full of action and a comrade/enemy best described as considerate Loki, the budding romance feels legitimate and the mysteries are thrilling.
Like much of Blythe's work, Guardian of Talons and Snares began as a Kindle Vella serial. There's more to come, so don't expect a tidy ending—and better still, the dance between ultimate morning person Aranya and trickster Kai will keep you guessing throughout the book. From the very first prank Kai plays on her, it's clear these two have a long way to go. Their developing (and then collapsing) romance is so well done, I can't wait to read what comes next for them!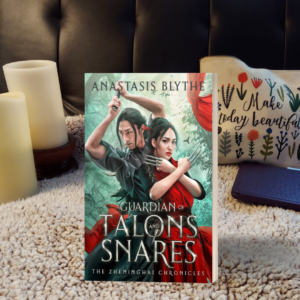 The villains are very villainous, the mysteries are well-plotted and there is political intrigue tied throughout the story. Better still, it's also the story of a young woman caring for her grandfather, who would do anything to protect him and return to him. The story (and the stakes) really heightens as Aranya and Kai set out on assignments together. I'm really looking forward to see where their multi-layered journey will take them.