Fans of Tamora Pierce won't want to miss this one. Up next is my much belated The Theft of Sunlight review!
The Theft of Sunlight is an issues book without compromising action and story, and I am there for it! Like in Thorn (Dauntless Path #1–find my review here), there are challenges relating to an abusive family members, corruption and class disparity. There's also sweet romance—this time, between country girl turned lady-in-waiting Rae and a thief.
Rae's story continues after The Bone Knife, which appeared at the end of Thorn. Cleverly, we haven't  left Princess Alyrra behind, either, even with the protagonist switch. The Menaiyan palace is viewed with fresh eyes, we have disability rep and Rae becomes a crusader to stop human trafficking after her best friend's sister is snatched. It's a dark road to go down, yet the story is well-balanced and never hopelessly grim. Delving into the underbelly of the capital brings an array of colorful, dangerous and riveting thieves with it. Think Lila Bard in V.E. Schwabb's A Darker Shade of Magic.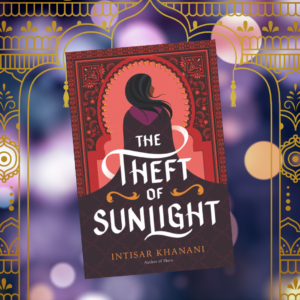 This book reminded me a lot of Alanna: the First Adventure (my review here), with an altruistic but grittier version of George in Bren (it's generally much darker than Alanna, even in the glittering palace). I also think of Vanessa Len's Only a Monster (my review) as a good "if you liked that, read this" title. Rae is a great protagonist up against an almost hopelessly powerful enemy (enemies, really), and I felt like she was really coming into her own by the end of the book. I don't think the cliffhanger was too bad, either. I do need that next book, though!