Note: I received an ARC and am voluntarily leaving an honest review. Triggers for this book include child abduction, violence, execution and torture.
What a ride this book takes you on, and what an amazing arc for Rae! Better still, the outstanding plot points from Thorn return in A Darkness at the Door, in a way that isn't forced and that I found very satisfying.
I didn't get the whole "book boyfriends" thing until I read this book and Bren came along. In the early chapters of The Theft of Sunlight, we're assured Rae will never get a match because of her turned foot and mobility issues. In A Darkness at the Door, Bren frequently laments that Rae is hard to keep up with. She's a force for sure, because of both her determination and her goodness, and it is fantastic to see a person who sees that falling for her, and vice versa.
Slowly, Rae recaptures every scrap of dignity she lost in The Theft of Sunlight, redefining what it means to be a country girl in the city (hint: it means being more capable and grounded, now that she's free from the pretenses of palace life). We also see her practice self-acceptance and body positivity, and coming to terms with the benefits of using a cane. In one scene, Rae thanks her body for how far it carries her, including the foot so often referred to as a limitation. She even uses opponents' ableism against them. The disability representation is exceptional here.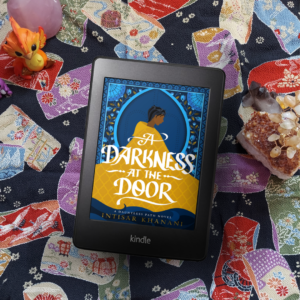 This is an action-packed book with plenty of heart to balance its darkness. I can't help but rave about the entire series, and the wonderful heights its heroine reaches in this last installment. Because I have the sense of there being so many more stories to tell in Rae's world, I can only hope we'll return to Menaiya again someday–or at the very least to wherever Bean is.