Note: I received an ARC and this is an honest, voluntary review.
Aaron Christopher Drown has made an art form out of subverting expectations. From the opening story of The Gods Must Clearly Smile, it was obvious all the quirky plot twists I could want would be in this collection, which features everything from aliens and demons to superheroes and meta-fiction as topics.
Path of an Arrow, one of the longer stories, was one of only two short stories in the collection that just didn't work for me. Though the concept was interesting, with so many clever stories surrounding it, its heavy use of back story (and an unlikely calm and methodical reaction from a woman whose house was broken into while she slept), stood out in an otherwise well-executed collection. There were also noticeably fewer female characters than I would've expected, with none appearing as a protagonist until a third of the way in.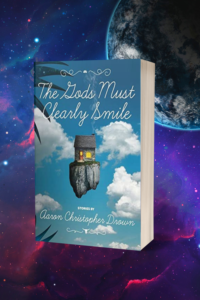 Some of the stories, like the namesake of the collection and The Milkshake Story, really kept me thinking long after I finished them. In the case of The Gods Must Clearly Smile the short story, I wanted more world-building details, because the murky beginning led to concepts that were absolutely fascinating. If the same world and setting existed in additional works I'd grab them in a heartbeat because I wanted to know more.
Overall, these stories ran the gamut of speculative fiction in a totally unique collection, full of clever twists and thought-provoking concepts. Sci-fi fans may especially appreciate this one.