Lord of the Hollow Court (Season of the Fae #1)
A fae The Legend of Sleepy Hollow retelling with an age gap romance, spooky season thrills and an exciting new world of fae right next to our own.
Release Date: September 14, 2022
Genre: Romantic Fantasy
Spice level: Hot
Distribution: Wide
Tropes: Age gap romance, servant to lady, slow-burn romance, marriage of convenience, found family, discovering magic, fae-human romance
Themes: Learning self-worth, overcoming flaws, unexpected bonds
What Amazon reviewers are saying
"I was so caught up…Lots of steam and action."
"This is the first book that I've binge-read in a long time."
"This is a great fantasy romance"
"If you enjoy diving into well-written, deep worlds and slower-burn reads, this is for you…The side characters are rich and have stories of their own"
Synopsis
It's Halloween night in Sleepy Hollow, and Katty is desperate to find a husband. When prime target Ichabod flees into the woods, Katty steals her friend's horse and chases after him–only to encounter a frightening spirit on horseback. After stumbling through the misty woods, Katty finds herself in an enchanted fae manor.
As Lord of the Hollow Court, low fae Braam hosts the Samhain revel each year, an event that draws high fae from international courts–including his liege and secret lover, Madeleif. Despite his efforts to perfect every detail of the revel and save his Court, Braam is irresistibly drawn to Madeleif, right under her royal mate's nose.
But this year's revel must go off without a hitch: if Braam can't prove his court's worth, the Hollow Court will be absorbed into the merciless Court of Claws. After Katty is discovered in his pantry, Braam scrambles to save a human girl he's never met instead of returning to the woman he loves.
Will Katty and Braam be each other's salvation? Or is a single human girl all it takes to topple the Hollow Court for good?
This fae Sleepy Hollow retelling and age gap romance is the first in a series of interconnected, standalone romantic fantasy novels, each set during a different time of year in fae courts around the world.
Note: Lord of the Fae Court is intended for mature readers and contains spicy romantic scenes, nudity, abusive language from a parent, an abusive relationship and an instance of dubious consent outside the primary romance.
Available in ebook and paperback from your favorite retailers!
(The Court of Swords Duology #1)
A Season of the Fae Kindle Vella story
(Note: Available to US Amazon users only)
Curses, bargains and one very naughty fae lord: the holidays are about to get interesting at the Court of Swords.
A wicked fae lord with secrets.
Every month, the lord of the wintry Court of Swords orders his sorcerers to bring another human woman to his court. This time, it's Tessaline's turn.
He just doesn't know it yet. Or that Tessaline is far from human.
A pair of sorcerers, bound by magic and out for revenge.
Tessaline is the spitting image of the aristocrat's daughter whom fae sorcerer Sovann is ordered to collect. Through Tessaline, Sovann sees his chance to thwart the scheming Court's Lord and free himself from the geas that binds him. But doing so means leaving a man who is like a brother to him behind—a man whose own quest for vengeance may ruin them both.
A heartbroken fae shifter on the run.
Tessaline only cares about surviving, and sees the court as her chance to be safe and warm at last. But the resplendent Court of Swords is more than sugar plums and roaring fires. As Tessaline falls under its spell, a new danger emerges to distract her from the terms of her bargain—and he just might be the man of her dreams.
Inspired by E.T.A. Hoffman's Nutcracker and Mouse-King, the source of the beloved The Nutcracker ballet, A Court of Swords and Sugar Plums is a spicy romantic fantasy set around the winter solstice.
This book contains open door romantic scenes and is intended for mature readers (18+) only.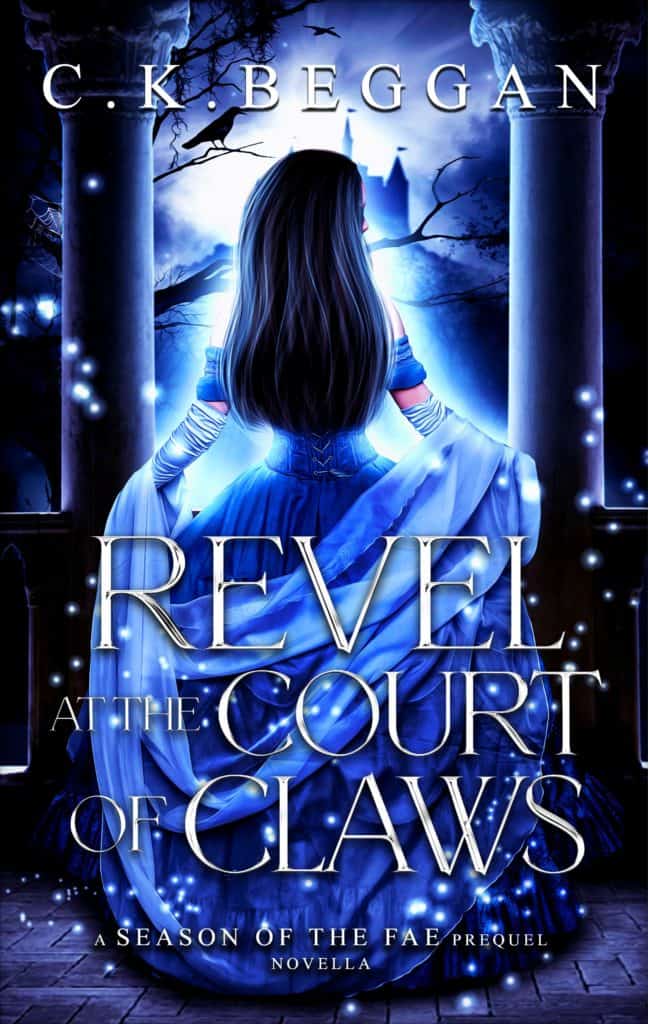 Revel at the Court of Claws: A Spicy Retelling Novella (Season of the Fae .5)
A fae and witch Sleeping Beauty and Sun, Moon and Talia retelling.
Release date: July 18, 2023
Genre: Romantic Fantasy
Spice level: Hot
Kindle Unlimited: Yes
Tropes: Insta-love, forbidden romance, haunting, wicked fae, unlikely friendship
The Hollow Kingdom meets The Cruel Prince with a dash of The Host in this spicy, witchy Sleeping Beauty and Sun, Moon and Talia retelling.
Her charmed life just became a cursed one—and then the fae arrived.
Susannah Wright gets what she wants, and what she wants more than anything is to become a powerful witch. So when her initiation into the coven is derailed, she will do anything in her power to reclaim fate's favor and rid herself of this unwelcome curse. 
Despite meticulous planning, her spell goes awry when she pricks her finger on a piece of flax and the High Fae scent Susannah's blood on the wind.
Whisked into the Court of Claws by the wicked, cunning, and unbearably beautiful Fae, will she survive their bloodthirsty revel? Or will the intense attraction between her and a High Fae Prince Charming be her undoing?
Fast-paced and sizzling hot, Revel at the Court of Claws is a prequel novella to Lord of the Hollow Court. It is intended for a mature audience.